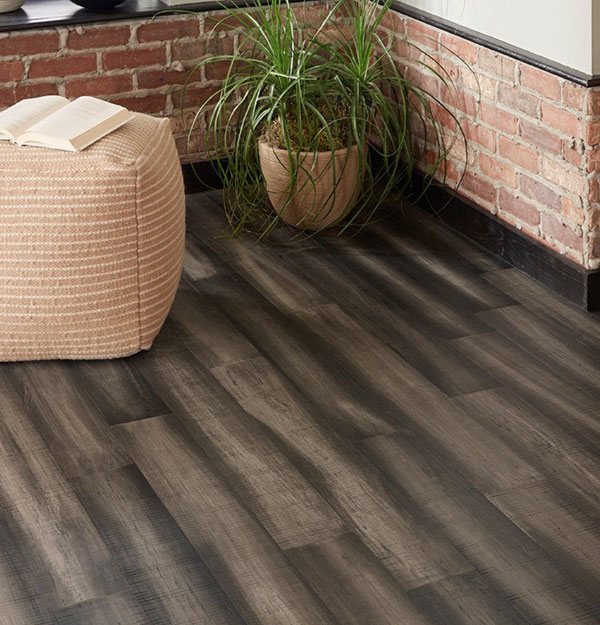 Gunsmoke
Coastal Path
Morrel
Tanglewood
Greyhound
Ginger Root
Bungalow
Gingerbread
Old Country
Sheffield
HDPC Waterproof Strand Bamboo
Guaranteed to outperform traditional engineered hardwood, HDPC Waterproof Strand Bamboo couples the performance virtues of rigid core flooring with the unique "character" of real strand bamboo. HDPC®CORE Technology seals out moisture, period. And annoying "repeat" patterns are a thing of the past. HDPC Waterproof Strand Bamboo looks and feels like strand bamboo — because it is!
Available in Wellmade® branded programs or "private label" collections
The beauty and warmth of REAL strand bamboo flooring
Natural hardwood veneer eliminates repeat patterns found in vinyl and laminate
Superior dent and scratch resistance. 3X harder than solid oak hardwood flooring
Hardmax® finish protects against spills and stains. Damp mop for easy cleaning
Perfect for all living areas, including those with higher risk of spills or increased humidity like kitchen, bath, basements and 3-season rooms
Construction:
Wood/Bamboo Wear Layer. HDPC® Core
Finish:
Urethane/Aluminum Oxide
Dimensions:
Traditional Plank: 7.7mm x 5.13″ x 36″.
Premium Plank: 8.3mm x 7.48″ x 72″.
Molding/Trim:
Complementary Moldings Available »
Installation:
Uniclic® Locking System
Warranty:
Lifetime Residential And 10-Year Light Commercial Warranty
HDPC® Wood and Strand Bamboo Solutions

When only the natural beauty and warmth of hardwood or strand bamboo will do, look to Wellmade to provide innovative High Density Plastic Composite® (HDPC) flooring solutions.

Guaranteed to outperform traditional engineered flooring, HDPC wood solutions couple the performance virtues of composite flooring with the unique "character" of real hardwood or strand bamboo flooring.

HDPC, a patent pending core technology, surpasses the performance standards of existing composite flooring. Increased density and hardness with superior thermal properties results in a dimensionally stable and waterproof core that may be floated virtually anywhere. Installation is quick and easy, eliminating flooring adhesives, vapor barriers, underlayment and/or padding.

With a proprietary blend of virgin PVC, calcium carbonate and plasticizer additives, HDPC from Wellmade, is a non-toxic formula backed by Greenguard indoor air quality certification.



HardMAX® Nano Finish Technology

Extraordinary hardness, superior abrasion resistance, and crystal-clear visuals. HardMax® Nano Finish Technology places Wellmade at the forefront of tough, easy to maintain and commercially-rated flooring finishes.

Polyurethane coatings coupled with aluminum oxide "Nano" particles form a tough and transparent UV-cured ceramic finish. Featuring high strength and excellent thermal stability, Nano Finish Technology remains flexible enough to withstand seasonal movements in flooring while resisting scuffing, scratching and topical stains.
Care And Maintenance

While Wellmade finishes are among the industry's most durable, simple routine care and maintenance will ensure years of hassle-free enjoyment. Follow these simple instructions to ensure lasting performance while protecting your flooring investment.

Sweep, vacuum or dust mop regularly
Wipe up spills immediately with a damp cloth
Mop floors with recommended flooring cleaner
Use throw rugs at all exterior entrances
Use felt pads on bases of chairs, tables and furniture
Never slide heavy furniture across flooring